A CHANGING HEALTHCARE SYSTEM
The standards for healthcare are quickly changing. A simple example is the switch from fee-for-service mindset to a value-based reimbursement model, which is causing providers to change the way they bill for care. Leavitt Partners project that fee-for-service care payments will dip to 50% of provider reimbursements by 2022. Value-based payments are now becoming a norm, and providers are now looking for lean healthcare strategies that increase patient engagement and improve outcomes, while keeping costs low.
"We know what brings people into the healthcare system, but we often don't know what keeps people out of the healthcare system."
However, adopting to change also requires a change in mindset. A recent study, conducted on 30,000 patients across 40 Minnesota-based primary care clinics, revealed that patients with the lowest engagement levels cost 8–21 percent more than the patients who were actively engaged in their health. Studies such as these, reveal the importance of designing a patient engagement strategy to improve health outcomes while optimizing profitability within this value-based care world.
THE PATIENT ENGAGEMENT FRAMEWORK
The term "patient engagement" has been described as — "the process by which patients become invested in their own health." As part of the effort to encourage a more patient-centric care model, the federal government is implementing new Medicare reimbursement strategies (bundled payments) that hold healthcare providers accountable for encouraging patient engagement in their care, both inside and outside the hospital walls. However, a recent National eHealth Collaborative survey indicated that only 8% of providers said they have a "very clearly defined patient engagement strategy" —even though 53% of respondents said patient engagement is a very high priority within their organizations.
Over the past few years, our team at SeamlessMD has worked with a number of organizations to help them achieve their patient engagement goals. We are now sharing 20 strategies that we have learnt over the years that will help you build a solid foundaion for achieving your longer-term patient engagement goals.
TIP 1: DEFINE A VISION FOR PATIENT ENGAGEMENT
The first step to an optimal strategy is to understand what you aim to achieve in terms of patient engagement. Discuss what patient and family engagement means to your senior leadership, board, staff, patients and their families and involve them in creating your vision. Translate this into a paragraph that describes what the organization will look like if strong patient engagement strategies are in place. This way everyone can see where the organization is hoping to go and this could lead to a higher chance of success.
TIP 2: DEVELOP A CULTURE OF INNOVATION
Healthcare changes are pushing hospitals and providers to rethink how they operate, and now is a good time to encourage creative thinking within the enterprise. Creativity at the individual and group levels is the force that will drive a culture of innovation within your organization, which will be enabled by open access to information, acceptance that not all attempts at innovation are successful and tolerance of risk within an established risk management framework.
TIP 3: GIVE A TEAM REAL AUTHORITY TO IMPROVE THE PATIENT EXPERIENCE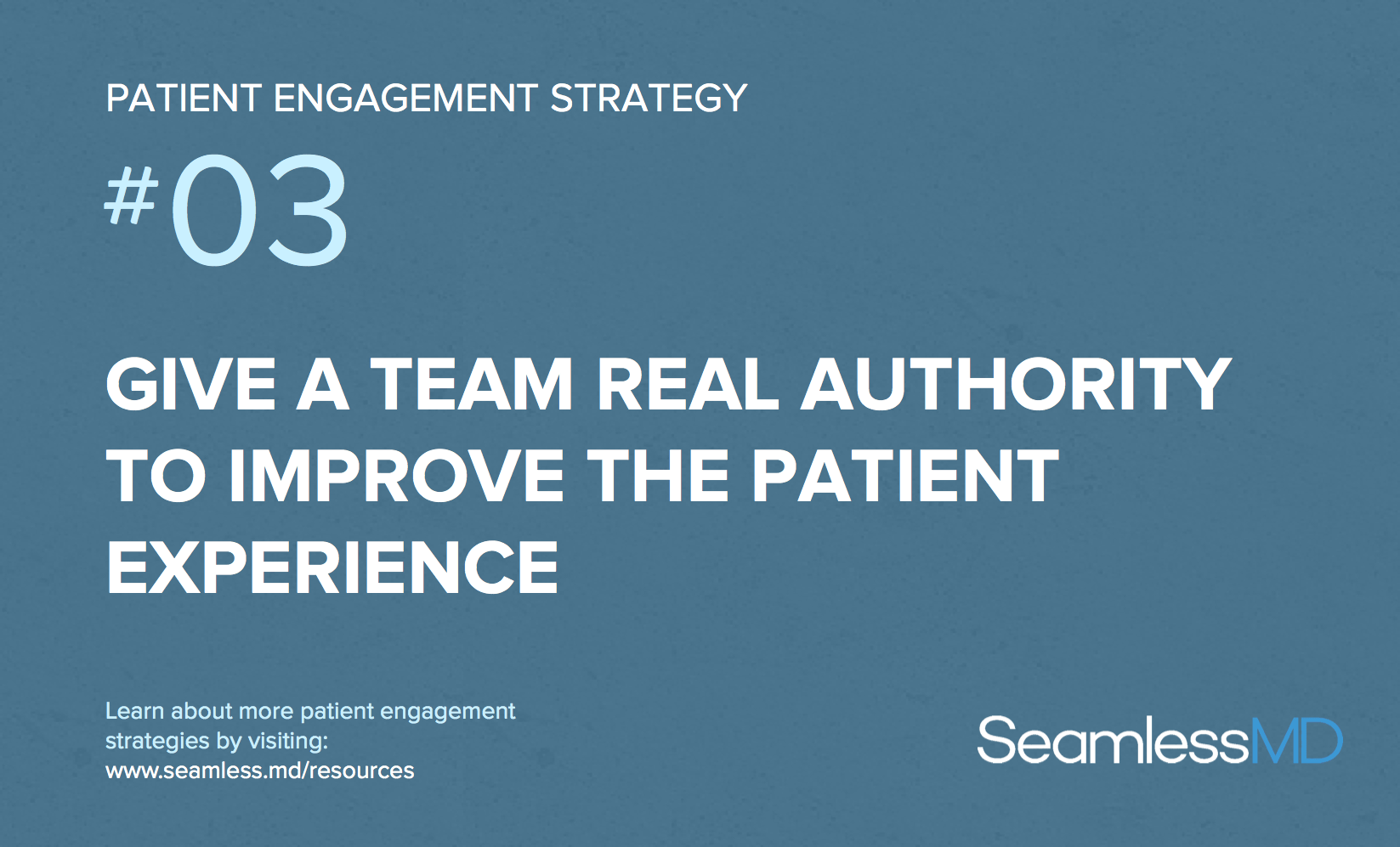 Instead of just talking about innovation and patient engagement, empower a team that has the ability to take action on patient engagement within your organization. Many hospitals have innovation teams, however they are siloed. They are not given the resources, budgets and the necessary process to make the changes that they seek. The best groups are those that are directly involved with many key leaders in the hospital to understand and spur necessary improvements.
TIP 4: UNDERSTAND YOUR KEY METRICS TO EVALUATE ROI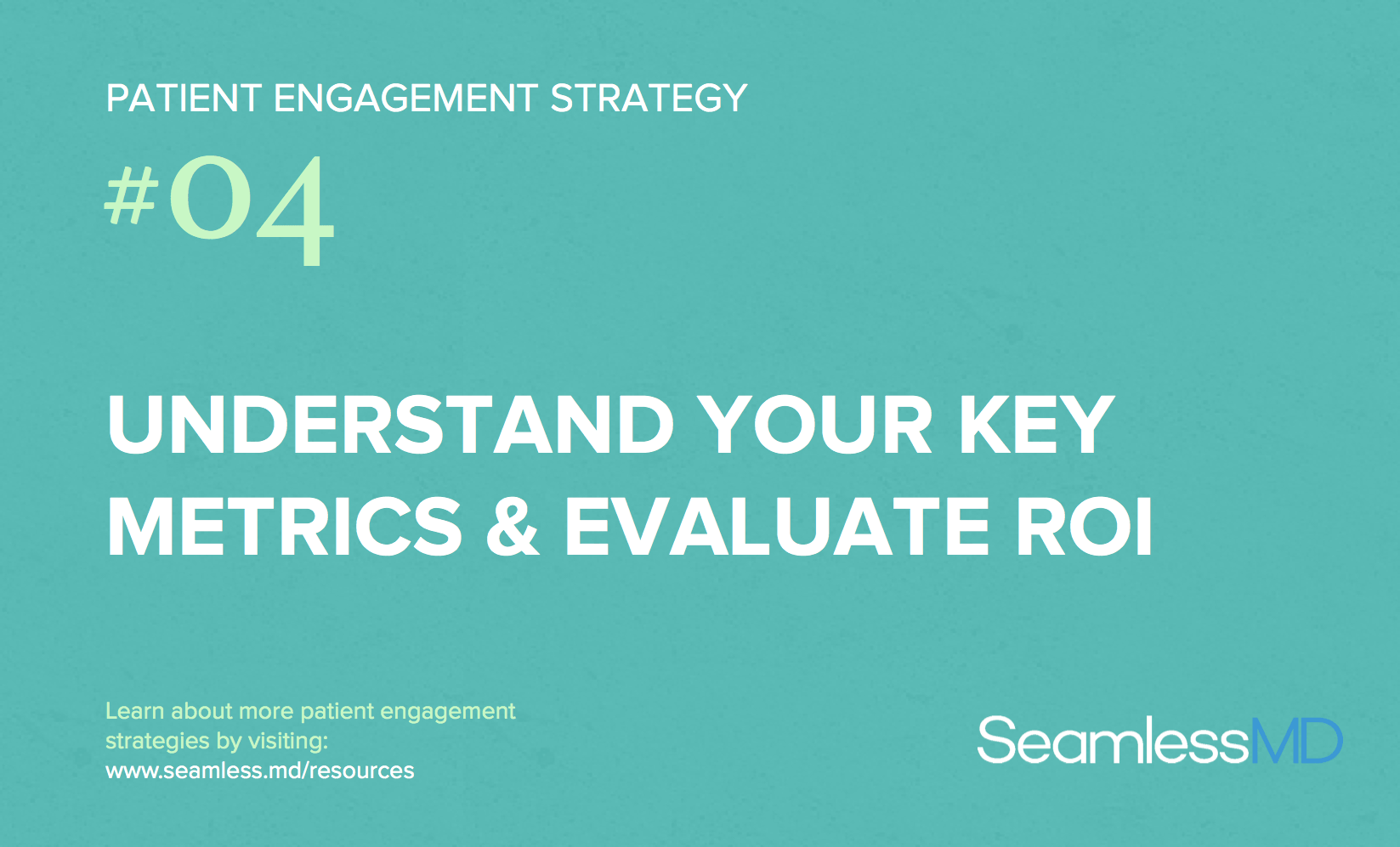 In order to maximize the return on investment (ROI) from patient engagement, it is important for the leadership team to empower an individual or team to understand the total financial picture of a HIT-enabled patient engagement solution. HIMSS recommends that health providers evaluate ROI based on:
Efficiency savings
Improved outcomes of care
Additional revenue generated from avoiding surgical cancellations
Non-financial gains (e.g., increased patient satisfaction, decreased provider time at work, increased employee satisfaction)
Increased knowledge of the patient population
TIP 5: MAP OUT PATIENT PATHWAYS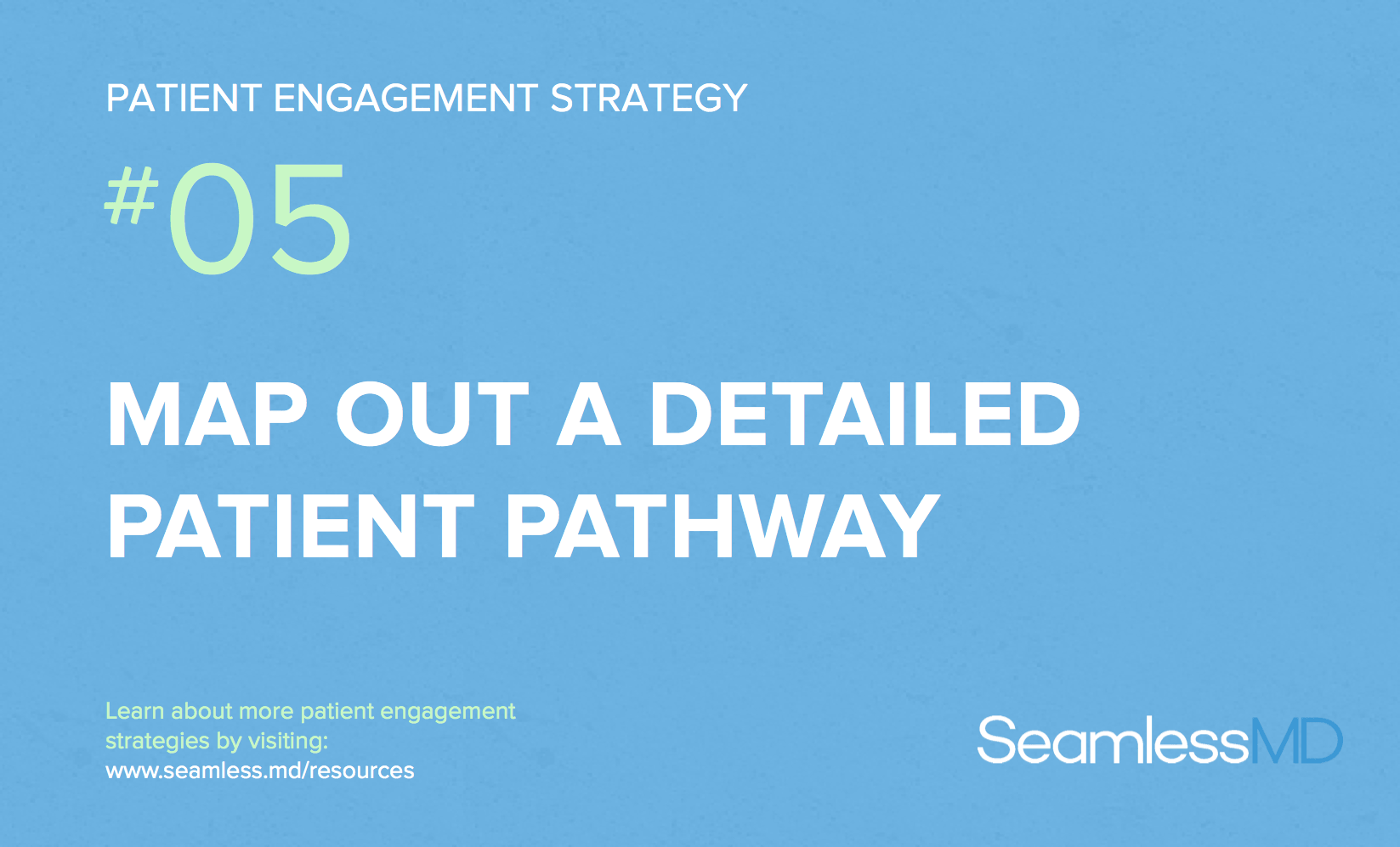 Healthcare in North America is getting more complex every day, and as a patient who needs surgery, it can be overwhelming to keep track of everything needed to have a successful surgical outcome. Patients might not know what to ask the doctor, how to get organized, what medications to start or stop taking, the ride home from the hospital, keeping track of all the appointments, and other crucial details that help make the days and weeks leading up to, during, and after surgery smoother and less stressful.
However, managing all of the details is not only tough for patients, but also for health care providers. For this reason alone, it's important to map out a detailed patient pathway that works around your patient engagement strategy. For example, including patient engagement from the very first pre-op appointment might be something you might want to consider.
TIP 6: ASSESS INDIVIDUAL PATIENT NEEDS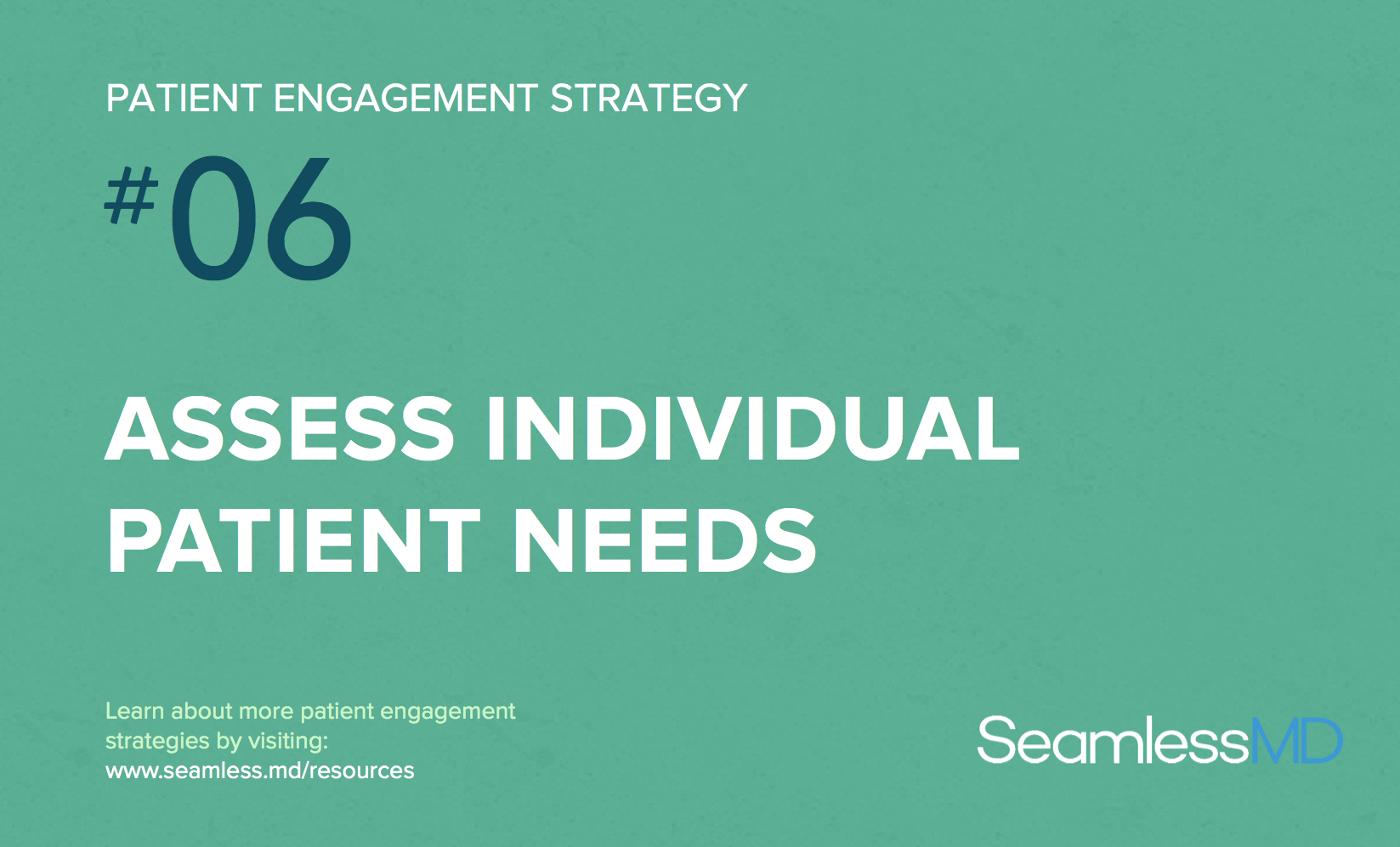 There are many barriers at the patient/family level which go beyond the willingness of patients to take responsibility for self-care or to follow doctors' orders. These include the social and economic environment in which patients must function, cultural factors, fear and uncertainty about what to expect in a medical encounter and the lack of health literacy in a large portion of the population. Measuring patient experience with care allows practices to gather information from patients on the things that matter most to patients. You can measure this quantitatively through patient interviews and qualitatively through patient survey (on paper or electronic).
TIP 7: EMPLOY THE RIGHT TECHNOLOGY AND SERVICES
Having the right technology and services is key to successful patient engagement. Look for apatient engagement solution that will operate seamlessly with your organization's workflow. The best patient engagement solutions offer a range of capabilities, including a cross-platform patient engagement platform which accommodates patient registration, reminders and the ability to perform remote monitoring. Ask the service providers about additional, integrated options such as email or sms reminders, ability to create custom educational modules, the quality of their existing library of educational materials and your ability to measure performance through an analytics dashboard.
Any patient portal should be built and branded for your specific practice, with the flexibility to add and customize features. Ideally, it should also comply with new mandates, includingMeaningful Use Stage 2, and offer excellent customer support to help you achieve success with your patient engagement framework, at no additional cost to you.
TIP 8: TEST DIFFERENT APPROACHES IN SMALL TRIALS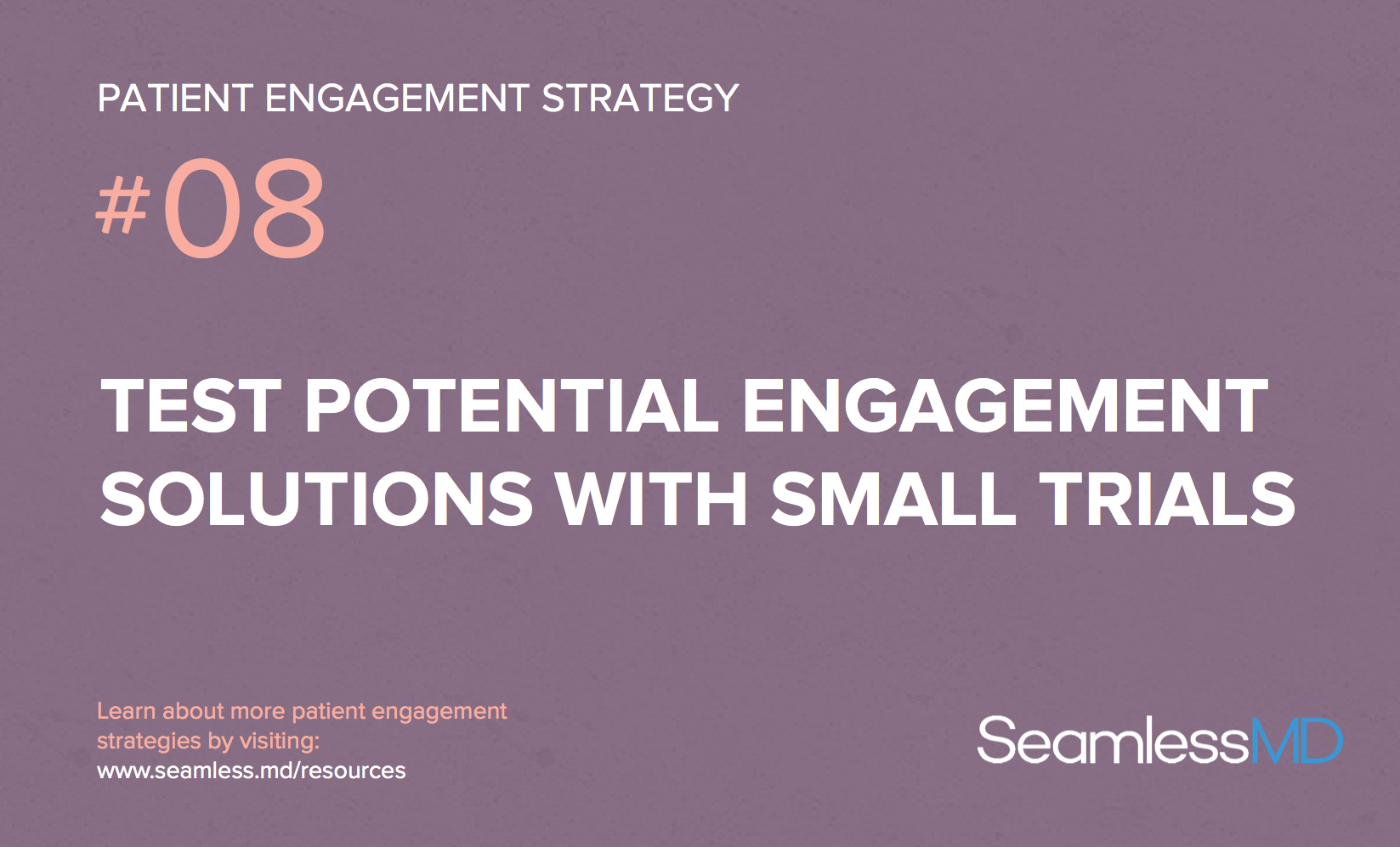 Small trials are a great to test out potential solutions rapidly without being locked into long-term. The most innovative hospitals have processes to allow testing of many solutions quickly to determine which ones work before substantially scaling across the hospital. Note that it is important to create an evaluation framework based on the metrics found in Tip #4 to determine if the solutions are actually working and providing ROI.
TIP 9: CHECK COMPLIANCE WITH HIPAA/PHIPA AND MEANINGFUL USE MANDATES
When selecting the right solution, it's critical to make sure that the provider meets and complies with the new HIPAA and PHIPA standards. Since patient portal technologies are relatively new, many companies do not meet standards of secure messaging or data storage for example. Which is why when selecting the right technology provider, make sure to learn about how they comply with Meaningful Use Stage 2 guidelines.
TIP 10: GET PRACTICE-WIDE SUPPORT AROUND PATIENT ENGAGEMENT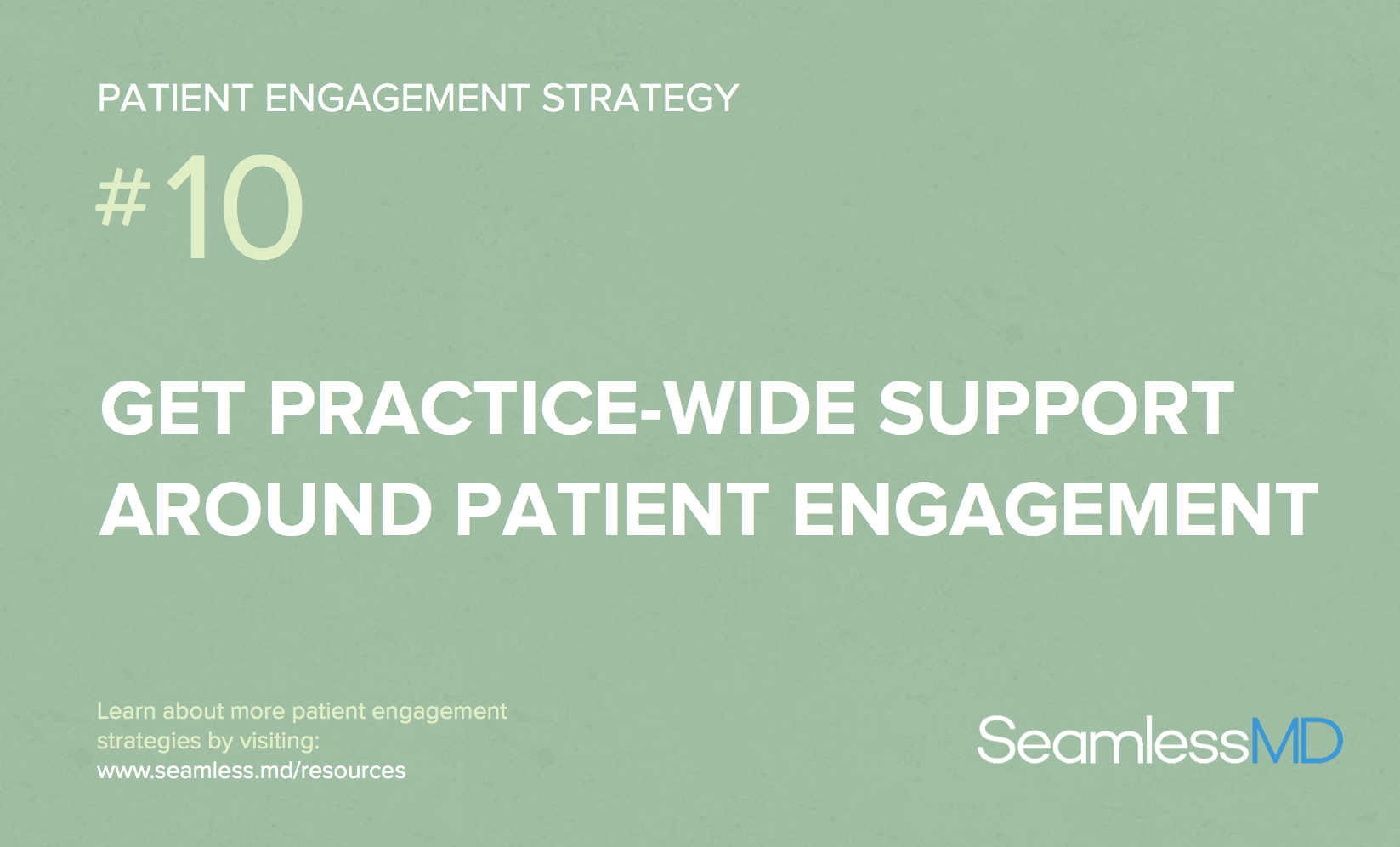 For a successful patient engagement strategy, it's important to make sure that both your staff and providers are on-board with your plan. Here are some tips for getting them on board:
Make sure providers & staff understand the benefits of patient engagement for themselves, for patients, and for the practice, including meeting Meaningful Use Stage 2 requirements.
Address concerns about older patient adoption of new technology. Research consistently shows that patients aged 65 and over use the Internet regularly and are comfortable using patient portals to access medical records online, in-fact 83% of U.S. seniors think that they should have full access to their electronic health records but only 28% actually do. (2013 Accenture Consumer Survey on Patient Engagement)
TIP 11: MEASURE BASELINE & KEEP TRACK OF RESULTS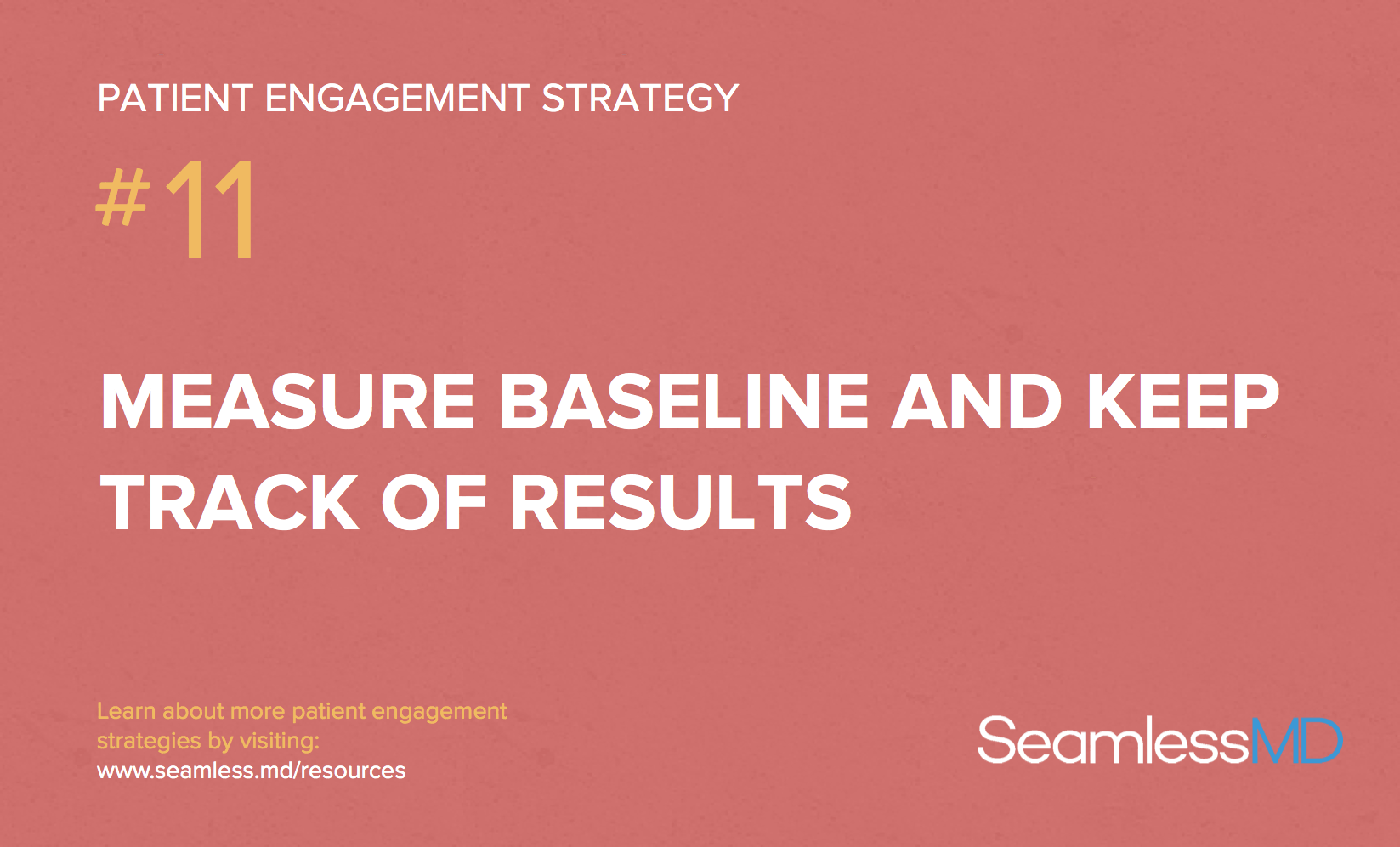 For each patient engagement solution, you should understand how you are measuring success. Before implement patient engagement solutions, you should collect data on the baseline of the metrics you expect to improve. Once you launch your patient engagement solution, you should regularly update and review these metrics. We have found a good review schedule is weekly within innovation teams and monthly within the leadership team.
TIP 12: MAKE PATIENT EDUCATION MORE ENGAGING AND READABLE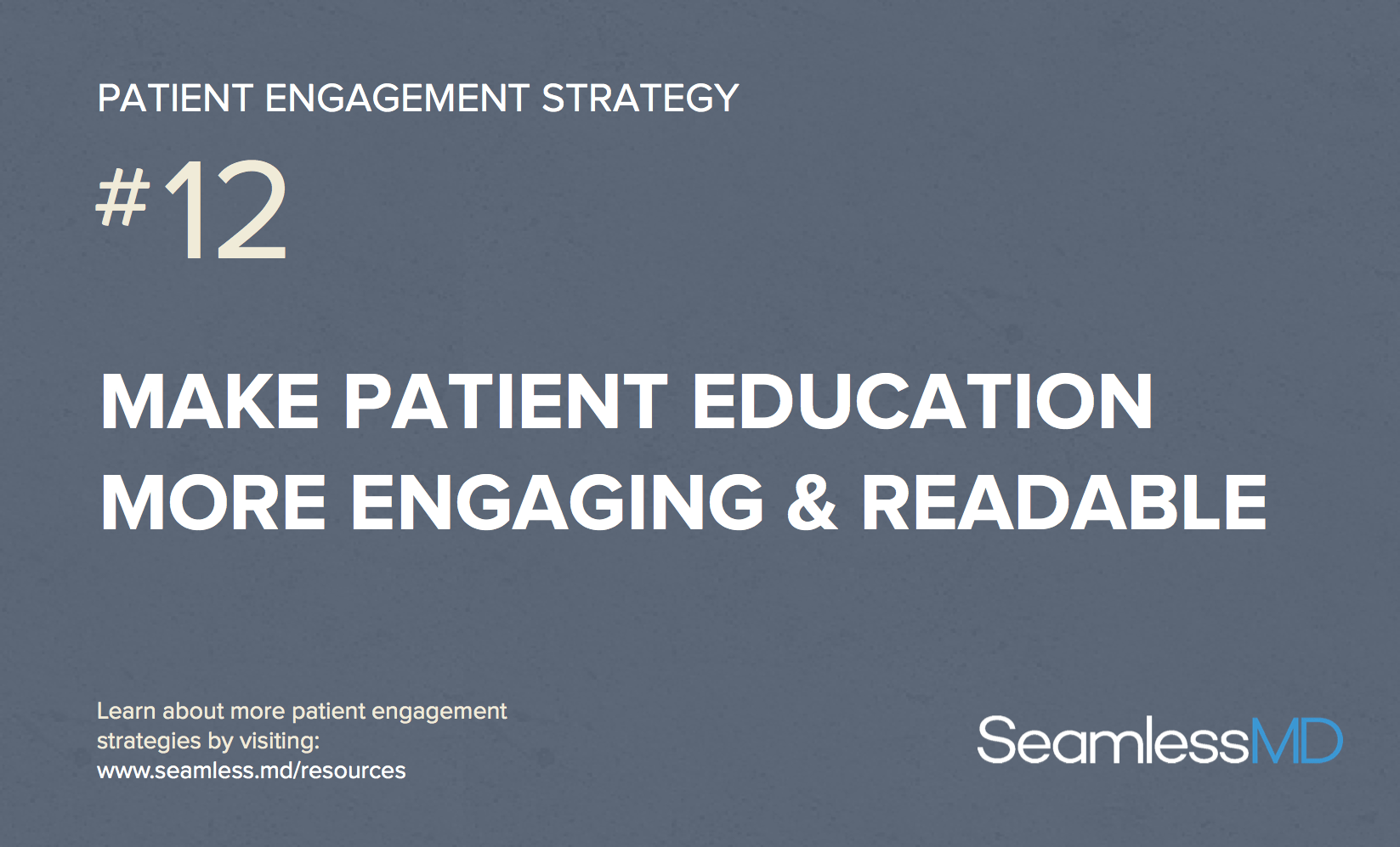 Today, about 113 million adults, or 80 percent of Internet users, have sought answers to their health questions online. Patients want to learn about their conditions and the research on patient engagement shows that patients feel more confident about managing their health condition when they have more knowledge about it. However, more than 90 million adults in the US have low health literacy, meaning they have difficulty understanding and using health information. Educational materials are often not written at a level that these people can grasp, making it harder for patients to adhere to instructions, leading to poor health outcomes. To avoid this, automating care management and care coordination can significantly improve patient engagement and their willingness to managing their own care. Furthermore, online patient education materials may be multi-media and interactive—a big improvement over the paper handouts that many practices still use.
TIP 13: DELIVER INFORMATION AT THE RIGHT TIME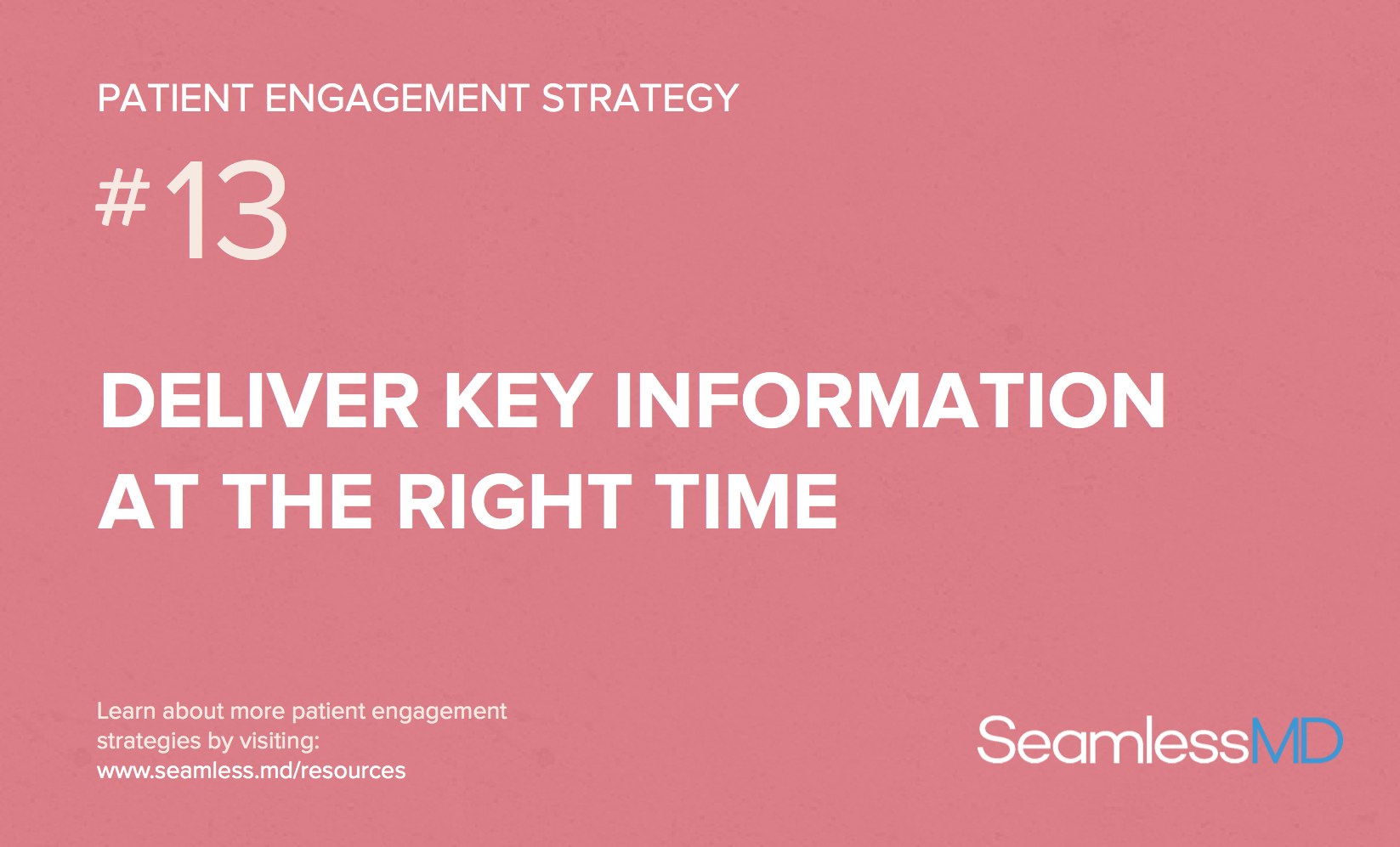 There is a lot of information that the patients need to know for surgery and recovery. Studies have shown that the patients only remember 20% of the information that you provide and 50% of that information is also remembered incorrectly. Instead of delivering all the information at once through verbal or paper instructions, look at ways to deliver bite-sized information at the right time. This could include:
Easy to read care plans on paper
Web-based information sent on a specific timed schedule
TIP 14: TAILOR INFORMATION TO THE INDIVIDUAL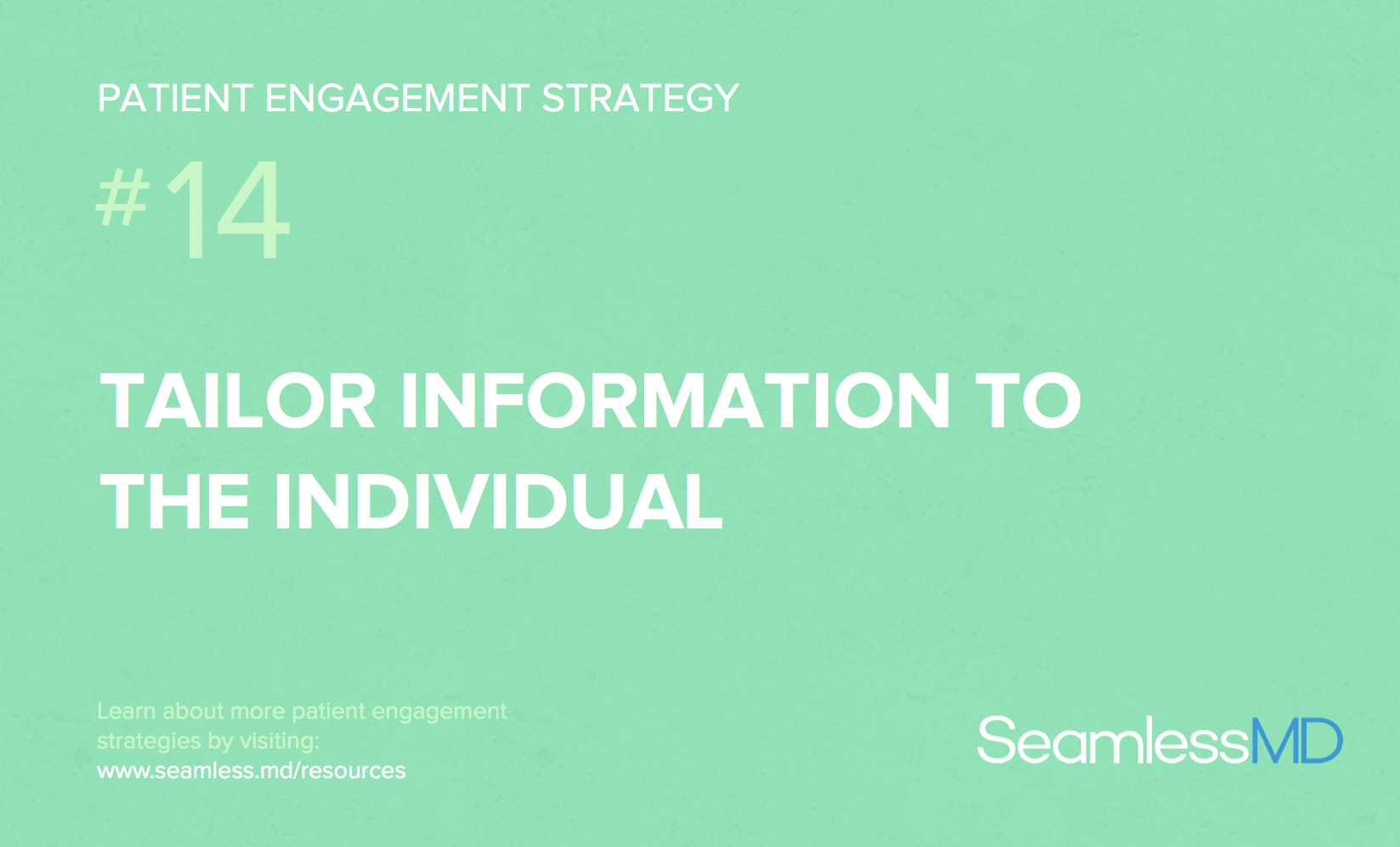 It is equally important to recognize that the key to patient engagement is the relationship between the physician and patient. When a doctor advises a patient to quit smoking, for example, the chance of that person doing so increases by 30 percent. So all patient outreach and educational efforts must be performed in the name of the patient's physician in order to have a strong likelihood of success.
Shared decision making between physicians and patients also increases the probability of improved outcomes, which is why when selecting the right service provider make sure to ask for a customized solution that is branded with your physicians practice and tailor for each patient.
TIP 15: INVOLVE THE FAMILY & CAREGIVERS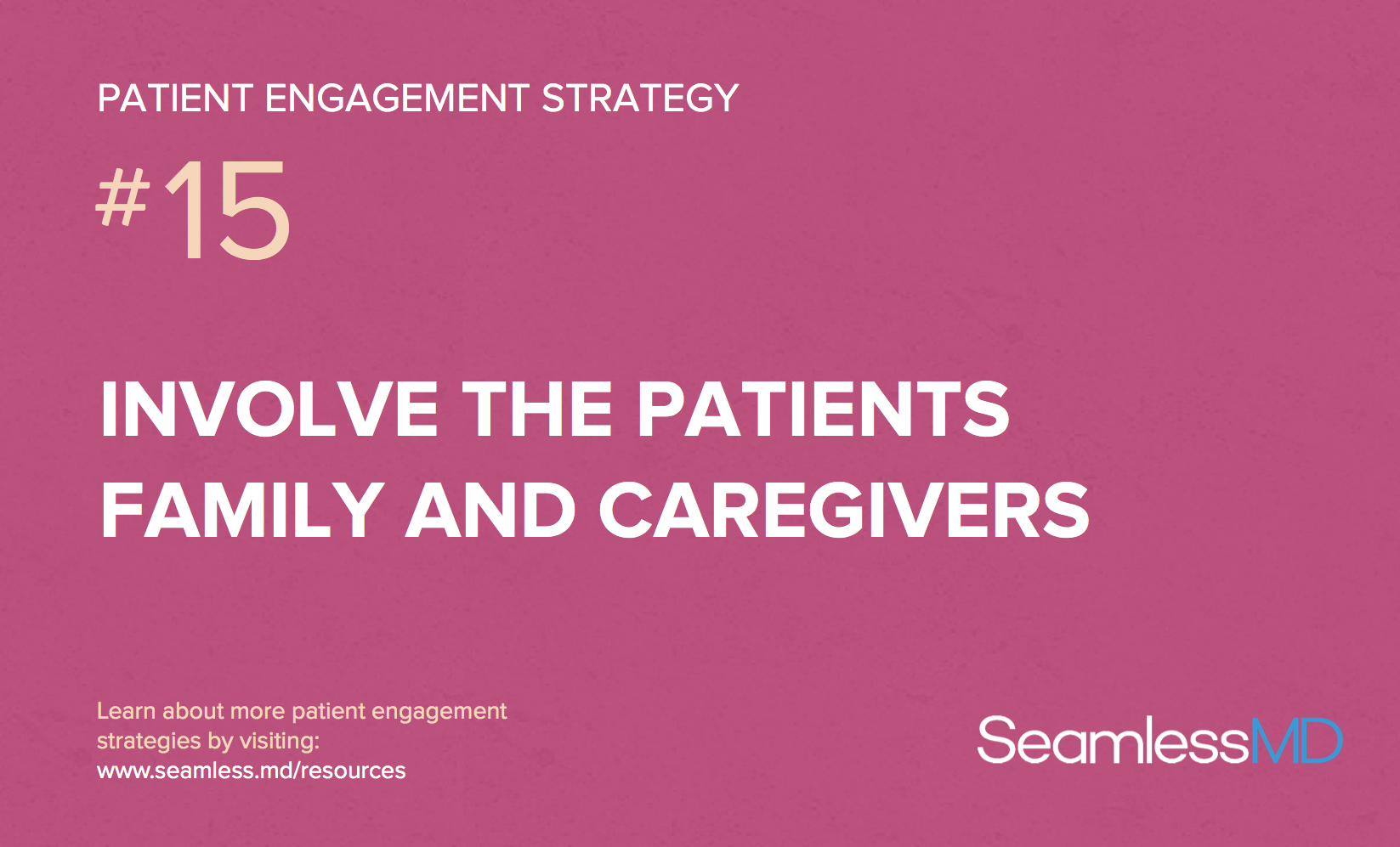 The percentage of Americans who care for an adult or child with significant health issues rose to nearly 40% this year. However, caregivers are one of the most underutilized resources in the healthcare system. Caregivers help manage their loved ones care and want to be empowered with the right information. Further, while patients may not have access to technology, the caregivers generally do.
TIP 16: CAPTURE PATIENT GENERATED HEALTH DATA (PGHD)
As HealthIT.gov defines, patient-generated health data (PGHD) are health-related data created, recorded, or gathered by or from patients, family members or other caregivers to help address a health concern. The use of PGHD supplements existing clinical data, fills in gaps in information and provides a more comprehensive picture of ongoing patient health. Specifically, PGHD can:
Provide important information about how patients are doing between medical visits.
Gather information on an ongoing basis, rather than only at one point in time.
Provide information relevant to preventive and care management.
TIP 17: ENGAGE PATIENTS OUTSIDE THE HOSPITALS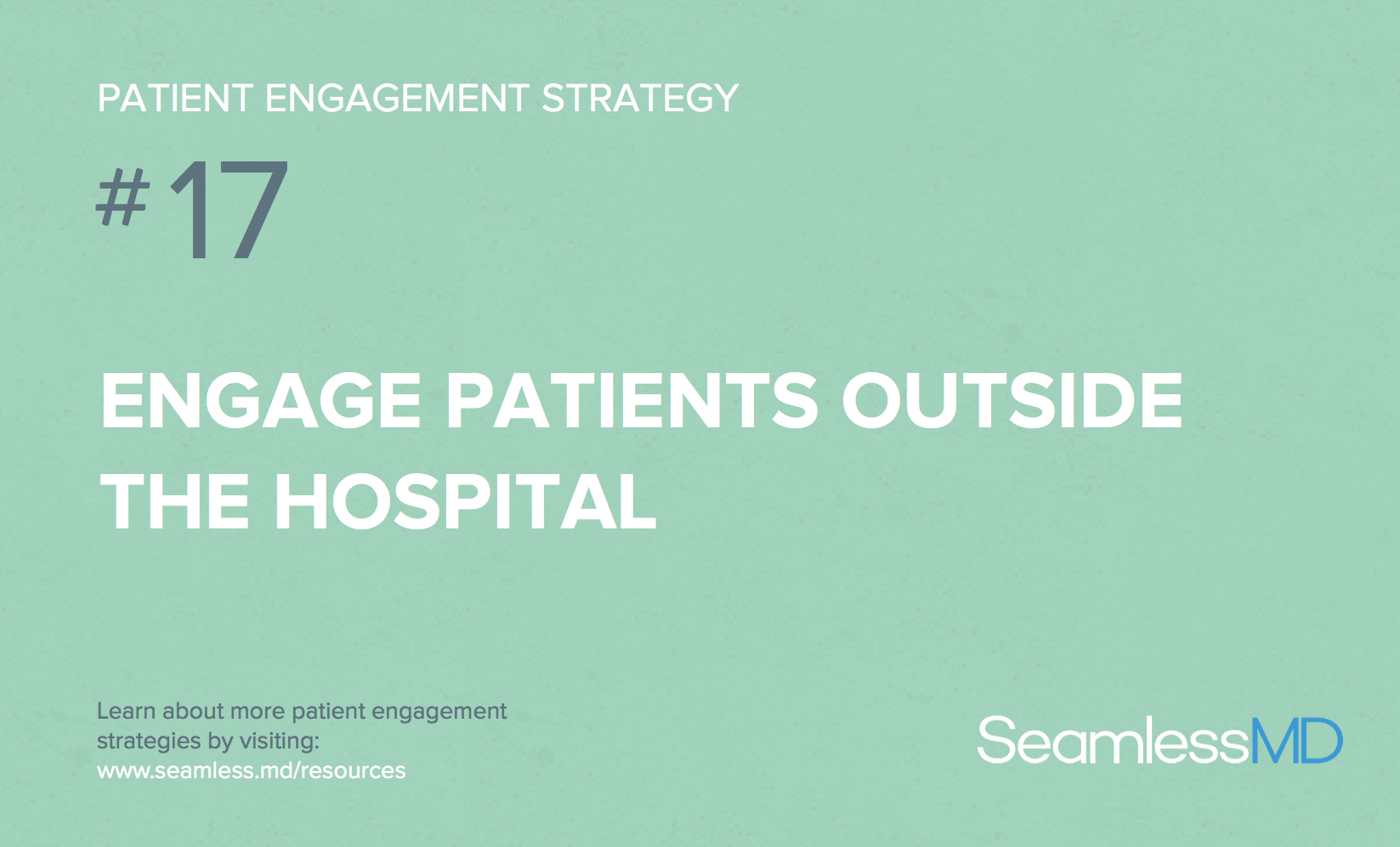 99% of patient activity happens outside of the hospital or clinic, beyond the scope of the EHR (electronic health record) and it is evident that information collected directly from patients is increasingly important. Since 1990s, remote monitoring systems have become more robust and less expensive, and the ability to transmit data has grown exponentially. The main obstacle to faster growth of remote monitoring is the healthcare reimbursement system, which still does not compensate physicians for non-visit care in most cases. That barrier, too, is expected to change as accountable care becomes the new paradigm.
Remote monitoring helps care teams extend their reach, and it engages patients in their own care.
TIP 18: AUTOMATE THE PATIENT ENGAGEMENT PROCESS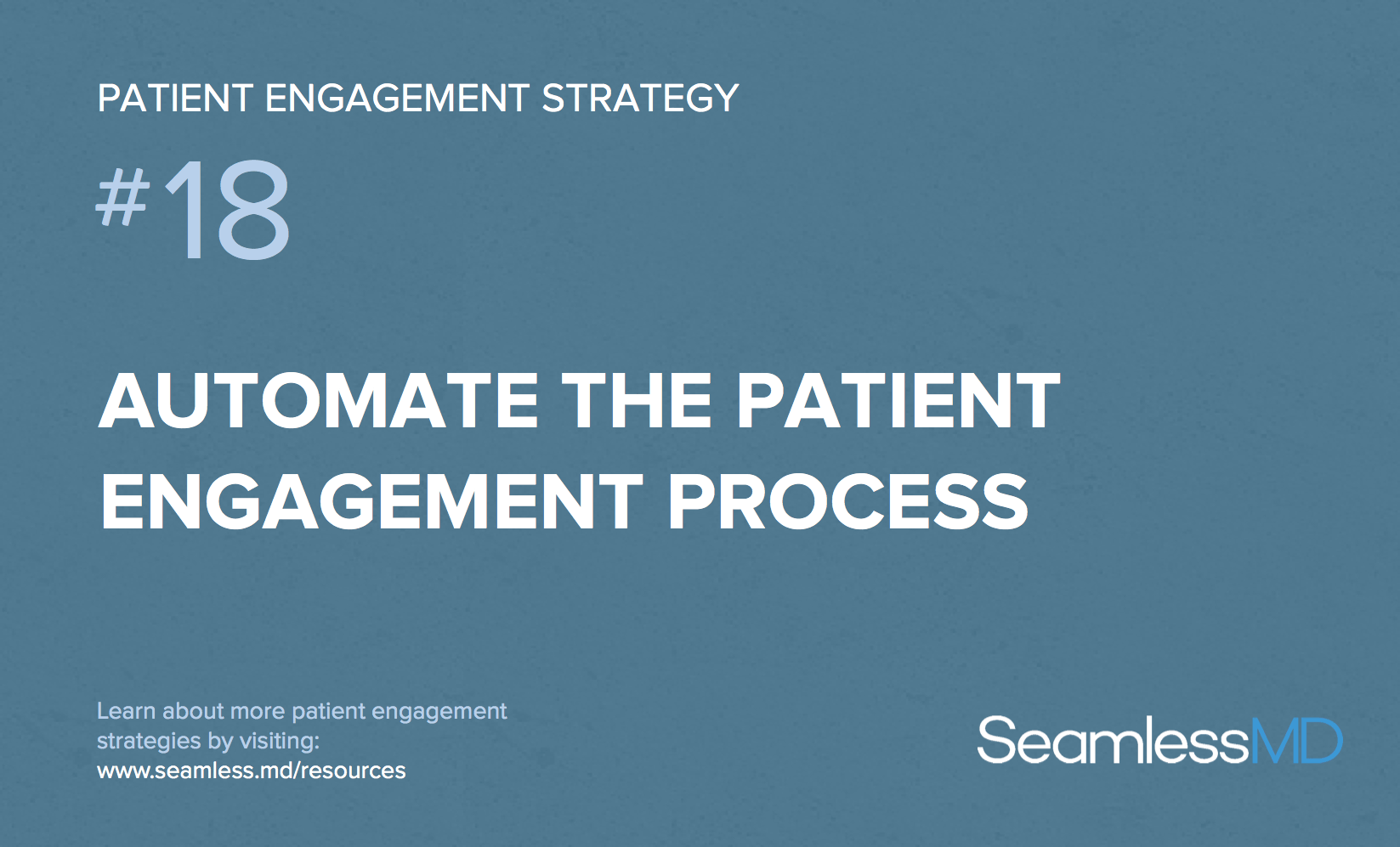 Maintaining continuous contact with every patient is a task that exceeds the capability of even the largest healthcare organizations if they use only manual processes. Most physicians do not have enough time to keep track of all of their patients. Care managers are expensive, and the number of patients they can supervise is limited. To expand their reach and the influence of physicians on their patients, some degree of automation is required. Some examples include:
Automate delivery of patient education
Automate patient engagement messages
Automate appointment reminders
Create system to direct patient enquiries to the appropriate person
Streamline billing
TIP 19: IMPLEMENT A RISK-STRATIFIED CARE MANAGEMENT SYSTEM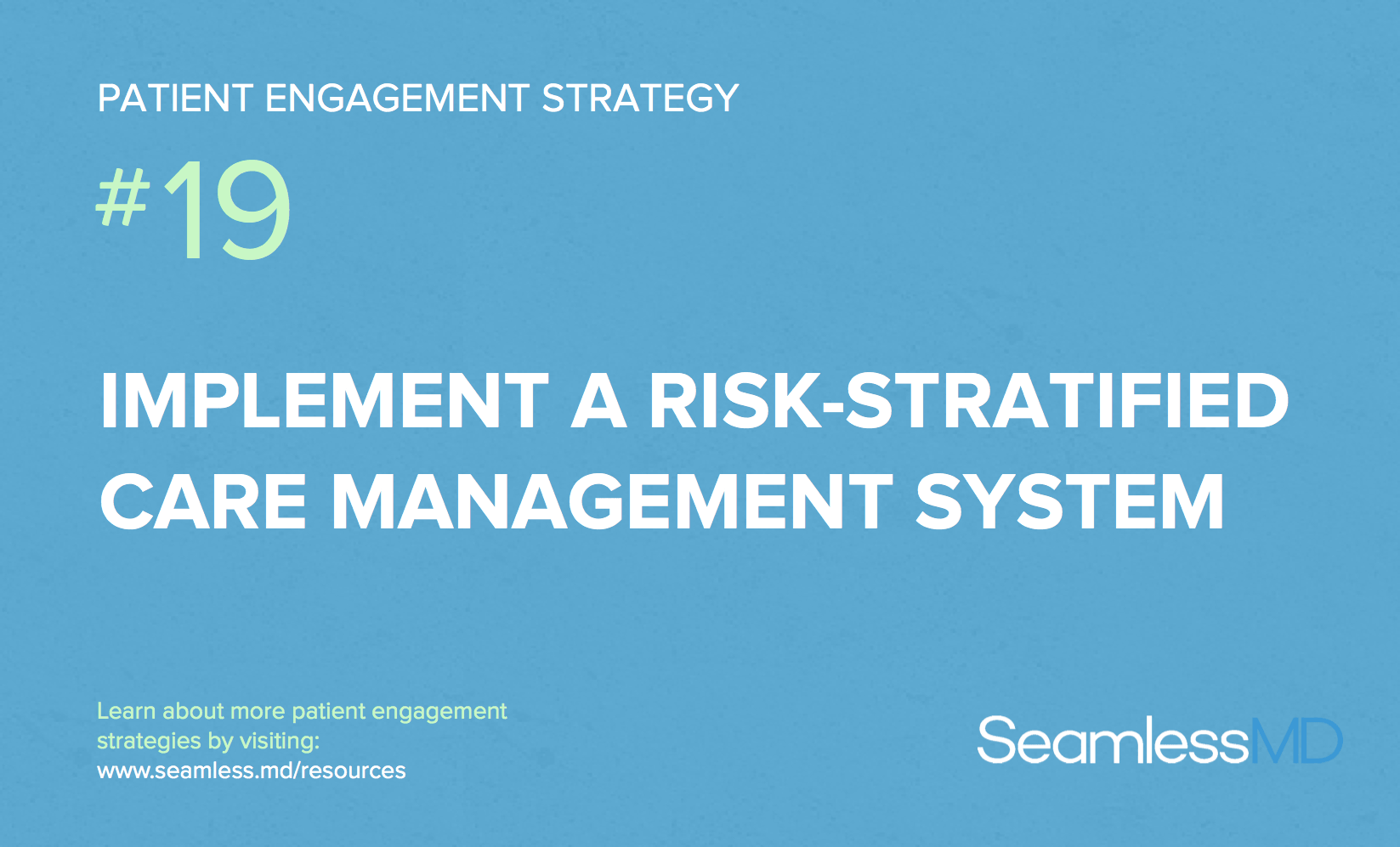 Each patient is not the same and have different risks and costs of care. So organizations should adopt techniques to identify patients who are likely to become high risk and prioritize care management of those patients. This can be done by collecting information through surveys or analyzing the patients history.
TIP 20: SHARE YOUR INNOVATIONS
People want to see how your organization is improving. People want to see results. So, show ROI improvements and/or real patients stories through paper or video testimonials. Share these impacts in regular meetings. Think about holding a quarterly/yearly conference that celebrates all the great innovation that is happening.
---
About SeamlessMD
SemalessMD is a patient engagement and remote monitoring platform for guiding patients through surgery. To bring SeamlessMD to your organization, please request a demo or call us at 1(866) 358-6789
For more articles like these, visit the SeamlessMD Blog.